Autobiography
---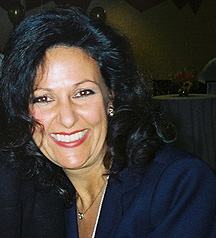 My name is Christine Lee Akrey. I grew up in a great traditional family with traditional family values. Both my parents worked hard and yet I recall them still being available to us when we were young and needed to have them there.
When I was a little girl, the most exciting Christmas gift I ever received in my whole life was an IBM Selectric typewriter when I was about 11 years old. My greatest disappointment was when I discovered that it was a rental and it had to be sent back.  (I have since purchased the same classic IBM). I believe that more than wanting to be a "writer", I wanted to be a "typer" and I still love typing to this day.
I did very well academically in school (I stood first in grade 2) and found that I had a creative bent in both visual art and theatre arts. I produced and starred in many productions in grade school and followed up upon that in high school. Following my natural tendencies, I enrolled in Ryerson's Radio & Television Course to study Media.
Upon graduation with a Bachelor of Applied Arts, I immediately landed a position volunteering at the then fledgling CityTV and, because of my persistence, was hired full time, after being a 'replacement guest' on a show hosted by Morton Shulman, Toronto's former coroner, when he insulted his guest and they walked out of the studio. When asked by Dr. Shulman on live TV what I wanted to do with my career, I responded "I want to work here", and so I was hired. I did various jobs at CityTV from studio directing, continuity, script assisting, on-air announcing, and working on their live news programme, to working in programming, news writing and various other departments.
After several years at CityTV I decided I wanted to try advertising, so worked in several Ad agencies, working my way up the corporate ladder in each one. One of the most wonderful jobs I ever had was being promoted to Broadcast Production Manager of a now defunct retail-advertising agency Gray O'Rourke Sussman. I was in my 20's and on top of the world. After that I decided I wanted to go really 'big-time' and work in the movie business and specifically on feature films. I became a Film Production Coordinator and over the years worked on many Hollywood productions filmed in Toronto. I think one of my biggest thrills was receiving a paycheque from Kevin Costner for working on his series about native Americans entitled '500 Nations'. It was not that his signature was on my cheque, it was that it was a big cheque and it was in US dollars.
During that time I started my own Customs and Immigration Clearance company and was solely responsible for clearing international film companies in and out of Canada.
After working freelance in the film business for several years, I decided that I had worked for all of the big Los Angeles and NY and even international production companies like the BBC and it was time to gear down. I decided I would work 9-5 somewhere in the "normal" corporate world . . . well 9-5 was not to be and courses in web design, hypnotherapy and medical office management followed.
I had always been interested in finance, so I took a job as a temporary Executive Assistant with a fledgling company called Confederation Leasing, headed up by a then 30 something accountant named Steve Hudson. That was in 1990, and I discovered that the film business was nowhere near as exciting as the roller coaster ride of working with this man and all of his young associates and building a great company for the next 10 years. Steve Hudson changed the name of the company to Newcourt Credit Group, and grew it from 50 employees in Toronto in 1990 to over 5,000 employees internationally in 1998. I was with the company when they issued their first IPO at $14.00 a share and watched the stock climb to $160.00 in a few short years. Newcourt was definitely doing something right and I was right in the midst of it. Then, inevitably, there was a correction in the stock market, and the empire started to fall apart and was eventually sold in 1999 to an American company called CIT. I had been a part of the growing Newcourt when it was acquiring companies itself, but now Newcourt had been acquired, so I was experiencing the other side of the M&A experience, which involved, layoffs, downsizing and the end of Newcourt's dream. It was also the end of my "perma-temp" employment and started me on my quest to start my own business.
What I am realizing now, is that no matter how secure one is, situations can always change. Instead of being passive about this, I have now decided to go with the change and create a business for myself. I always have my other careers and skills to fall back upon, but I want to move forward and run my own company from now on.
I have done many projects out of my home office and see this as a future trend. I know so many people who were forced to look for work because of a company restructuring or downsizing and I believe they also will want to regain some type of control over their lives. I want to offer this to them. To be able to work from home and make enough money to support their families and have some 'quality of life' at the same time.
When I speak with women my age and ask them what they really want, I always hear the same response. "Time". I believe my business will afford both my employees and clients that invaluable commodity that money can't buy. "Time".